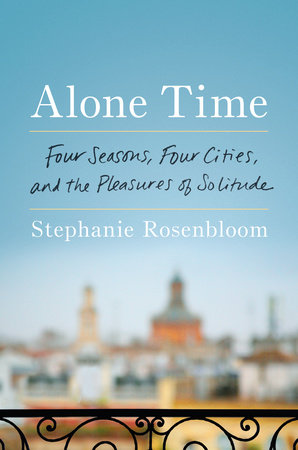 Alone Time, Four Seasons, Four Cities, and the Pleasures of Solitude by Stephanie Rosenbloom, Viking, New York 2018
Here is a unique opportunity to travel along with someone who is exploring being alone in four of the world's most interesting cities, Paris, Istanbul, Florence and New York, as paradoxical as that may sound.  There is a discrete intimacy that develops as we, her unknown readers, stow away in her mind as she takes in the scenes around her to a degree not sustainable when company is shared. It is indulgent, full attention to her own interaction with what is both stable and mobile that is delicious in its focus on personal sensation. Sample chapters bring us along on a picnic for one in the Luxembourg Gardens, to the Rainbow Stairs in Istanbul, standing alone with Venus in Florence, and wandering the West Village in New York.
A celebration of the value of solitude and the fantasy of "the flaneur: the solitary stroller, following his curiosity with no particular destination in mind, nowhere to be but in the here and now", (page 10), we learn about 'savoring' as a practice to enhance well-being. As we ensconce ourselves in a quiet corner with this book we can truly experience the relaxation that comes with giving ourselves over to it.
The author includes useful and important tips at the end for traveling in places with unfamiliar customs but before that she has the chapter that could most easily inspire us to new adventures.  That is traveling in our own home town as if it were a foreign city and to bring a reporter's (or tourist's) eye and habits, and care, to our daily life and to do it alone.  Find out more at https://www.penguinrandomhouse.com/books/534829/alone-time-by-stephanie-rosenbloom/9780399562303/